Availability
Contact
Calle Ramon y Cajal P2-14B
Piso 2° Izq.
21400 - Ayamonte (Huelva)
España/Spain
ayapart@ayapart.es
QR-Code
Us? ONCE UPON A TIME...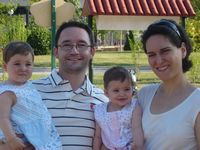 A young and beautiful Spanish girl from Ayamonte, born in Germany, went to Naples in 2001 to study Italian, at the same time that a Swiss guy a little bit less young and less handsome from Sierre in the French part of Valais. They fell in love but had to go back to their respective home.
But love was stronger than the distance: after many visits from both, she went to Switzerland to live with him in 2002 and they got married in 2004.
In 2005, they moved to Madrid where their 2 wonderful twins are born in June 2007.
Since summer 2008, they are enjoying the beach, the sun and the golf courses in... Ayamonte!
This complicated story is not less than ours:
Welcome to our home!

Home